by ALEXANDRA RETTER
Evan Hansen knows one thing about the people whose names are on the canoe he has portaged across Minnesota. "They left too soon," he said. 
Over the past 35 days, Hansen portaged a canoe through southern Minnesota and into Wisconsin to raise money for and awareness about suicide prevention. He was motivated by the four people he knew who died by suicide. On Tuesday, he completed the 313 mile trek, called Portage for a Purpose, at Kinstone, outside Fountain City. For those who have faced suicidal thoughts, known someone who has or lost someone to suicide, Hansen said his message comes down to three things: "You're not alone. You're not a burden. And you are loved." 
Along the way, some went online to submit the names of loved ones who died by suicide, while others shared the names when they happened upon Hansen as he walked. About 640 names were written on the canoe, and he went about 1,000 steps for each name.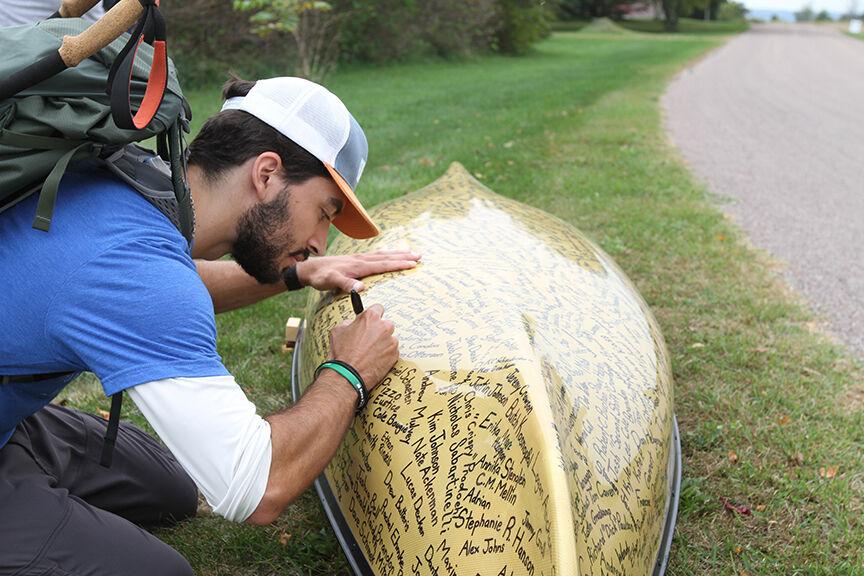 Hansen also talked about this difficult topic with many people during his journey. He has faced suicidal thoughts himself. To have these conversations, he recommended using grace and kindness, as well as meeting people where they are at with the subject. 
A number of people engaged with Hansen's journey through social media, too. National Alliance on Mental Illness (NAMI) Southeast Minnesota Program Director Monica Yeadon helped answer the messages that poured into Portage for a Purpose's Facebook page. "As someone who has been behind the scenes the whole time, he has been starting conversations that have been silenced for far too long and really doing a lot in fighting against the stigma for mental illness," Yeadon said. "In the inbox we just had so many stories from people all over, and every single one of them would just break your heart," she continued. "And it just gives me that much more motivation to keep doing the work that I do."
Hansen's feelings about the trek ending vary from day to day, he said. It's bittersweet, he added. "I don't want it to end, but I also know that how it's going to end, even if it's not how I expected, will be how it should," he said.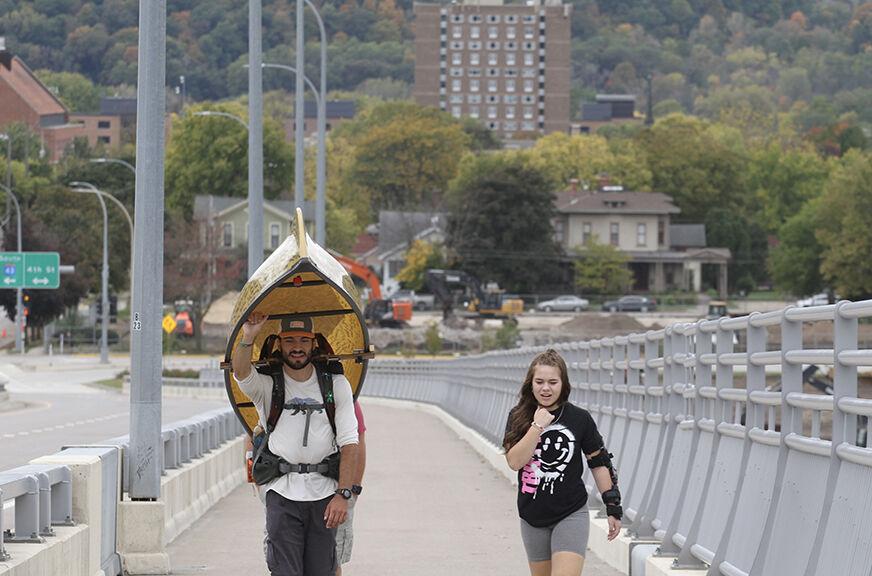 Hansen chose Kinstone as the trek's final location because he wanted somewhere that those who have lost a loved one to suicide could easily go, he said. Hansen set his canoe down in the middle of a circles of stones at Kinstone, surrounded by family, friends, and supporters. After a brief ceremony and cheers from the crowd, he broke the somber air, announcing, "OK, I'm hungry."
Hansen said the end of the trek felt similar to through-hiking the Appalachian Trail in that, "I feel equally strong and equally worn down." But, "This is much more meaningful than a normal walk in the woods."
The physical part of the journey may be over, but the conversations about and fundraising for suicide prevention continue. Hansen said Portage for Purpose's fundraising web pages, where people can donate to NAMI, will remain open through the end of October. After that, he encouraged people to donate directly to NAMI. For more information visit www.facebook.com/portageforapurpose.
Winona Post Editor Chris Rogers contributed to this story.